How Many Scribes?
Some time ago, Currier proposed that more than one hand penned the Voynich Manuscript and labeled the pages as to which hand scribed it. I haven't looked at these designations because I wanted to decide for myself whether more than one hand was present.
After creating my own transcript of the VMS text, and looking at every word in the document, I'm convinced there was more than one scribe and perhaps more than two. The hand at the beginning is a little rounder, the one that follows a little smaller, slightly less round, and shows signs of maybe being a quicker hand. I have more to say about this later, but it brings up questions about whether the VMS was 1) a cooperative project or 2) a situation where someone picked up the work where someone else left off. It is evident that the same systems of composing the glyphs were known by both scribes—there is a high level of consistency between the construction of the VMS word-tokens on the various pages—so perhaps the two main scribes were contemporaries.
How Many Painters?
It's more difficult to assess whether those who added the text also created the drawings or added the paint, but it is possible to assess the styles to see if they were painted by different hands.
After looking through all of the VMS illustrations, I'm reasonably sure there was more than one person painting the drawings. The easiest way to explain my observations is with visual examples. This is not a comprehensive overview of the drawings (it deals only with the paint), and it doesn't include examples that might have been painted by a third hand (if such a hand exists), but it's enough to give a sense of why I believe there was more than one painter.
Some pages are hard to assess. They don't have enough paint to reveal the style and those with blue pigment are problematic because the blue appears to have been more difficult to mix and apply, making it harder to distinguish any difference in styles, but those with a preponderance of greens and browns, which blended more readily, give some clues as to painting styles.
It's a large image—you may have to click on it (and click again when it opens) to see the details, such as the brush strokes, and the tips of the leaves: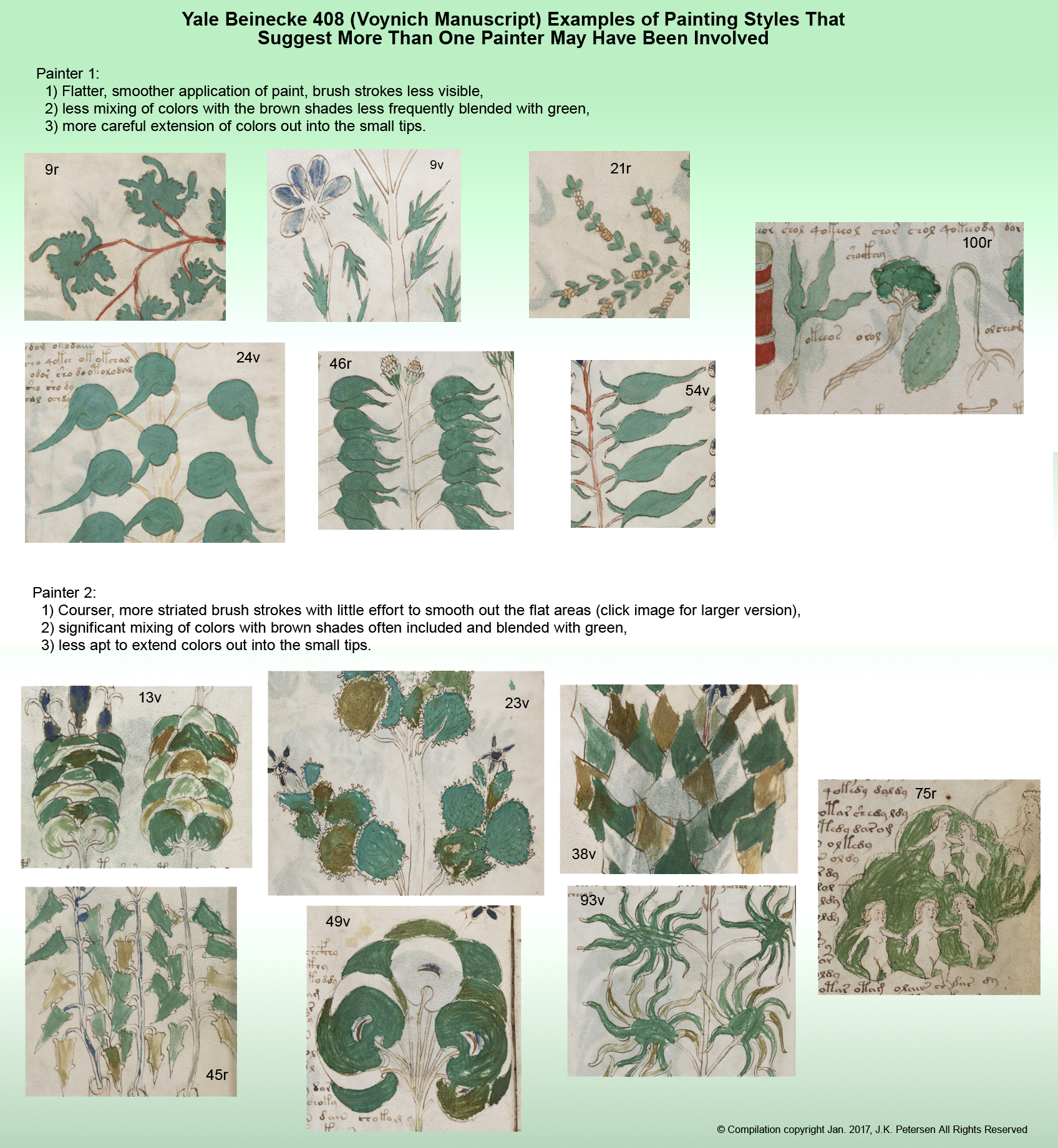 Summary
If the only difference between the two sets of samples were the care and attention with which the paint was applied, it would be hard to know if this were two painters, or one painter having good days and bad days, but the different way the brushstrokes are blended or not blended, the greater propensity for color mixing, and the different color "sensibility" (use of brown for accent and variety) increase the likelihood that more than one person painted the images.
J.K. Petersen
© Copyright 2016 J.K. Petersen, All Rights Reserved